Manufacturing Factories of CG
Sichuan Chengdu Chenggong Construction Machinery Co., Ltd. (CG) is a professional construction machine manufacturer. It is the largest construction machine manufacturing base in the western part of China.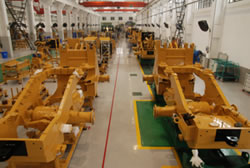 CG has built several manufacturing factories to meet the growing global demand of its wheel loaders, backhoe loaders, motor graders and more heavy equipment machines. The factories include the following: - Main loader factory. CG's main loader factory is located in Honghe Town, Longquan District of Chengdu city. With a staff of about 200 people, this main plant is responsible for the manufacture and assemblage of large loader parts. The factory is equipped with 200 units of boring machines, mother machines, pretreatment machines, shot blasting machines, and CO2 welding machines. It is also furnished with two Austrian IBM RJ-330 welding manipulators (mainly used to weld the rear frame of the loaders), an Italian W27Y-60A tripple-axis CNC pipe bending machine (mainly used to bend pipes ≤Φ63.5×3 mm), and other high precision equipment. As a result of the efforts of our diligent staff, the annual production has reached 4000 units.
- Structural parts factory. Structural parts factory is an important factory which is in charge of the machining of hardware structural parts for all the wheel loaders, backhoe loaders and motor graders. It is the biggest hardware structural parts processing center in the western part of China. It is able to process 2000 tons of plates and section bars each month and is suitable for different hardware structural parts that are longer than 8 mm. This factory covers an area of 12,000 m2 and has 180 staff. It comprises of a production department, a technical department, a cost control department, a stock workshop, a forming working shop, a welding workshop, and a blanking workshop. It is furnished with 136 units of processing machines for hardware structural parts. These include CNC hydraulic bending machine W67K-800/8000, U.S.-made CM360NC CNC cutting machine, Italian CNC plate bending machine, Japanese CNC edge milling machine, German NC CNC cutting machine and other high precision equipment.
- Axle and transmission factory. It is engaged in the production of transmission components and parts, such as driving axles and transmissions for different wheel loaders, backhoe loaders, and motor loaders. It has a staff of 600 people and is furnished with a U.S.-made Abar Ipsen heat treating multi-purpose furnace, Japanese Mitsui, Niigata processing center and 300 units of other precision processing equipment. It carries out heat treatment, gear machining, ground finishing, milling and more. It completes the assemblage of drive axles in our ZL30B, ZL50B, ZL50E, ZL35F, ZL50F, PY165, PY185 and other models.
- Painting and plate manufacturing factory. It is the base for painting applications and plate manufacturing activities for our wheel loaders, backhoe loaders, motor graders and heavy equipment vehicles. It has a staff of 200 people and more than 100 units of CNC cutting machines, bending machines, plasma cutting machines and other high precision equipment.
- Fitting factory. This fitting factory has a staff of 200 people and covers an area of 7800m2. It has a complete set of clamping, milling, grinding, and inserting machines. With high precision machines like a Spainish MCX650 CNC process center, 715F CNC vertical milling machine, XK6132 CNC horizontal milling machine, TK4210012 boring lathe, TX6113A, TX6113C CNC boring machine, T6216 floor type boring machine, B115 single arm planer, R210 gantry type planer, etc. The fitting factory is in charge of the manufacture of parts and components for our wheel loaders, backhoe loaders, and motor graders. It also carries out testing and research of our new products, manufacture of moulds for accessories and repairs of the factory equipments.
CG932H Wheel Loader
CG932H wheel loader represents our 30 series wheel loaders, which is known for its strong power, robust frame, stable performance, ergonomic design, simple maintenance as well as applicability in different working conditions. CG932H wheel loader is generally characterized by the following features.

CG946G Wheel Loader
The machine also uses the sound-performance working device, to enhance the digging force, lengthen the dumping reach and improve the operation capacity.
Using the wet drive axle with reliable performance, the wheel loader can work under various operation conditions.